O grupo britânico Mumford & Sons levou para casa o prêmio de Melhor Álbum, por Babel, na 55ª edição do Grammy, realizada na noite deste domingo (10), no Staples Center. em Los Angeles, nos Estados Unidos.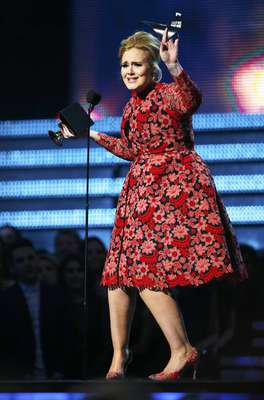 Entre os outros destaques da noite, Gotye levou o prêmio de Gravação do Ano pela música Somebody That I Used To Know e a banda Fun. e a cantora Janelle ficaram com o título de Música do Ano com o hit We Are Young. Fun. ainda ganhou o prêmio de Artista Revelação.
A cantora Adele também foi premiada na noite e recebeu o Grammy de Melhor Performance Pop Solo, com Set Fire to the Rain.
Confira a lista dos vencedores:
Álbum do Ano
Mumford and Sons – Babel
Gravação do Ano
Gotye feat. Kimbra – Somebody That I Used to Know
Canção do Ano
fun. feat Janelle Monáe – We Are Young
Artista Revelação
fun.
Melhor Performance Pop Solo
Adele – Set Fire to the Rain
Melhor Performance de Pop Colaborativa
Gotye feat. Kimbra – Somebody That I Used to Know
Melhor Álbum Pop
Kelly Clarkson – Stronger
Melhor Gravação de Dance
Skrillex feat. Sirah – Bangarang
Melhor Álbum de Música Eletrônica
Skrillex – Bangarang
Melhor Performance de Rock
The Black Keys – Lonely Boy
Melhor Performance de Hard Rock/Metal
Halestorm – Love Bites (So Do I)
Melhor Canção de Rock
The Black Keys – Lonely Boy
Melhor Álbum de Rock
The Black Keys – El Camino
Melhor Álbum de Música Alternativa
Gotye – Making Mirrors
Melhor Performance de R&B
Usher – Climax
Melhor Álbum Urbano
Frank Ocean – channel ORANGE
Melhor Canção de R&B
Miguel – Adorn
Melhor Álbum de R&B
Robert Glasper Experiment – Black Radio
Melhor Performance de R&B Tradicional
Beyoncé – Love on Top
Melhor Performance de Rap
Kanye West e Jay-Z – Niggas in Paris
Melhor Canção de Rap Colaborativa
Kanye West and Jay-Z feat. Frank Ocean and The-Dream – No Church in the Wild
Melhor Canção de Rap
Kanye West and Jay-Z – Niggas in Paris
Melhor Álbum de Rap
Drake – Take Care
Melhor Álbum de Americana
Bonnie Raitt – Slipstream
Melhor Álbum de Reggae
Jimmy Cliff – Rebirth
Melhor Álbum de Comédia
Jimmy Fallon – Blow Your Pants Off
Melhor Trilha Sonora
Trent Reznor and Atticus Ross – The Girl With the Dragon Tattoo
Mehor Canção Para Mídia Visual
Taylor Swift e The Civil Wars – Safe and Sound para Jogos Vorazes
Melhor Pacote de Gravação
Björk – Biophilia
Produtor do Ano
Dan Auerbach
Melhor Videoclipe
Rihanna feat. Calvin Harris – We Found Love